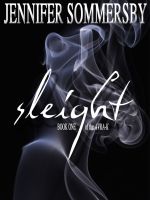 Sleight - Book One of the Avra-K,
Jennifer
Sommersby,
Smashwords Edition: March 2011
(Young Adult fiction)
With the exception of having read Twilight, I don't have much experience with contemporary YA fiction. However, after getting to know the funny, smart, and occasionally irreverent Jennifer Sommersby a little through twitter and The Best Damn Creative Writing Blog, I knew that I couldn't miss reading Sleight, her new novel for young adults.
Sleight is full of danger, action, and supernatural drama, but what drew me in most was the main character, Gemma
.
Gemma had a rough childhood in many ways, and she had a secret: her ability to see the ghosts, or "shades," of dead people. She had been able to keep this talent quiet all her life, but then her mother died, and she began to see the shades more and more often. When the circus Gemma travels with settles in the small town of Eaglefern, Gemma suddenly finds herself in the center of a thousands-of-years-old struggle between good and evil. She and her new boyfriend Henry are the only ones who can protect humanity by keeping a magical book, the Avra-K, out of the hands of the nefarious Lucian Dmitri. Throughout Sleight,
Gemma is smart, tough, outspoken, loyal, vulnerable, and raw. Some of the challenges she faces are extraordinary (ghostly spirits and evil magic) and some more common (a parent struggling with depression, teasing at school, predatory boys). She fights her way through them all, and I expect she will be very appealing to teenage girl readers and Young Adult fiction fans.
Sleight's author Jennifer Sommersby very generously agreed to answer some questions about the novel and her experiences as a writer:
Tell us a little about your background – have you always been a writer?
Well, um, maybe? I started writing stories when I was a little kid, but it was less driven by my need to be a storyteller and more by my infatuation with my sister's sky-blue Smith Corona electric typewriter. My older sister was born with cerebral palsy and couldn't use her hands as able-bodied folks can, so the school gave her this handy little device on which to do her homework. She hated homework, and I loved to type. So, I commandeered it. (Mean sister! No, I shared. Really. I did. My mom made me.) I liked the noise the buttons made and how they felt under my fingertips. And it was the prettiest blue you ever did see! If I wanted to continue to play with the typewriter, I had to come up with words to put on the paper stolen from my mom's stash. By making up stories, my mom and sister would let me stay on the typewriter. It seemed a fair trade.
How did the idea for Sleight come to you - was there a specific inspiration?
Did it grow gradually over a long
time, or hit you like a lightning bolt out of the blue?
Sleight
started out as a short story in 2007, about a 13-year-old girl named Frankie who lived with a circus and kept a pet frog she called Hamlet. When my writers' group doled out their feedback, they all said the same thing: this character is not 13. I tried rewriting it to make her sound younger, but with abysmal results. So I upped the age a little and the story began to evolve. In late 2008, we had a young magician over to our house for my son's seventh birthday party, and as the cake was being served, Jonathan (the magician) started telling me about the history of magic, and specifically about a guy named Ricky Jay, who is the master at sleight-of-hand. The more we talked, the more an idea began to form. And when I discovered the
true
meaning behind the world
avrakedavra
, I was a goner. I knew I had to craft a story that would incorporate reality with fantasy, built upon a solid foundation of truisms.
Reading Sleight got me thinking about the books I liked as a teen, and wondering what my own daughter might like when she is older. What kinds of books did you enjoy reading as a teenager? How did their heroines compare to Gemma? Do you read other contemporary Young Adult fiction, and how do you think it compares with what we had as teens?
I read all of Judy Blume's work, over and over again. Who didn't? Interestingly, a lot of Blume's heroines were real girls, like I was, dealing with real problems. I was a (very) late bloomer, and I SO wanted to stuff my bra like Margaret (
Are You There God? It's Me, Margaret
); I was totally boy crazy but terrified of sex, so when
Forever
started to make its rounds of our school, I was enthralled; and I wanted to be strong and brave like Davey in
Tiger Eyes
(even though, thankfully, I hadn't lost a parent to violence). I also read the VC Andrews books -- eww, incest! -- but was enamored with the strength of the love story between the main characters (I just didn't realize how creepy it was at that age). My mom was a fan of bodice-ripping romance novels, so there were always the Danielle Steele and Judith Krantz novels to be had. I discovered very soon how formulaic and predictable they were, but still fell in love with the folks from
Zoya
and
Family Album
. (I can't believe I'm even admitting this.) At the time, my writing efforts were mere copies of these stories. I wanted romance and in-fighting and loyalties betrayed and everlasting love. Thankfully, all of those stories were lost in my parents' flooded basement. I would die a slow, painful death if anyone ever read them. Hey, I was fifteen. Stop giggling at me.
When I was in ninth grade, I fell head over heels in love with Shakespeare, more notably
Romeo and Juliet.
I wanted to be Juliet, only without the tragic, bloody ending. When I sat down to flesh out who Gemma would become, I wanted her to be an amalgamation of Shakespeare's strongest women: Rosalind, Beatrice, and even Kate the Shrew.
I have read a lot of contemporary YA fiction, and the one thing I cannot tolerate is weak, suffering female characters. I didn't want Gemma to be a ballbuster, per se, but she had to be able to hold her own with whatever life had in store. That doesn't mean she's not delicate or scared, or that she doesn't desire romance or affection; she just has to be able to dig deep and find the strength to get through the next ball of carnage lobbed her way. Suzanne Collins did an exemplary job of building this archetype with Katniss in
The Hunger Games
. I'd be a liar if I didn't say that her work influenced the final draft of
Sleight.
Katniss and Gemma would totally be friends.
The fiction that's available today is amazing. There seemed to be a limited selection in my school's library (my parents spent money renovating our house and on library overdue fines, not in bookstores) and I read what the other kids were reading. But the last few years have seen an explosion in the caliber and availability of titles for the YA reader, way more than what I remember as a teen. It's really quite phenomenal. What a great time to be a voracious reader and fan of YA!
Lastly - and most importantly- who would you like to play Gemma in the movie?
Great question! I have thought long and hard about my dream cast (Mark Strong for Lucian!). My husband is a film nut and screenwriter, and one of the things he had me do when I started writing the second draft of
Sleight
was to go onto IMDB and print out photos of the actors I envisioned fulfilling the roles of my characters. (Yes, we're nerds, but it helps with visualization.) Saoirse Ronan would be perfect as Gemma, although Molly Quinn might bring a vulnerability to the part. Ahhh, Saoirse...she's my dream Gemma. We should send her a copy of the book, no?
I absolutely think we should!
Many thanks for taking the time to answer all these questions, and wishing you the very best with Sleight.
Sleight is available as an e-book on Smashwords or Amazon, and is
soon to be released in paperback.